2020-11-12 16:49
Ya'an cracked a super large virtual currency pyramid sale case and charged three suspects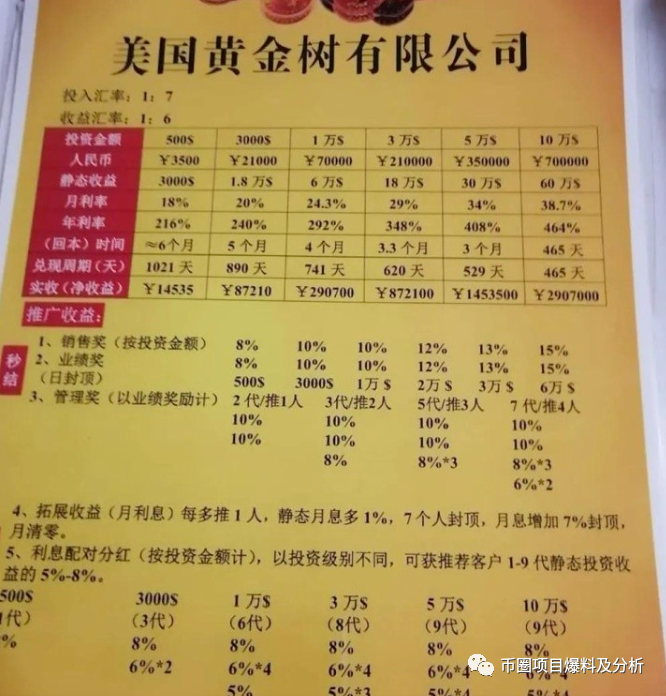 [Beijing Direct News Network November 12th] (Eagle mirror)Investment and trading of virtual currency can not only quickly obtain high returns, but also enjoy dynamic benefits if new members join. In fact, it's a pyramid scheme. On November 4, the people's Procuratorate of Yingjing County, Ya'an City, Sichuan Province, disclosed the indictment of the case of Lin, Chen and other organizations and leaders in pyramid marketing activities.
According to the indictment, since February 2018, the "REC golden tree" pyramid marketing organization with Wang Junren (at large), Su Yifeng, Wang and others as the core organization and leader has declared to invest in "REC Golden Tree project" (also known as American hemp planting project) through online registration, which can enjoy static income and develop new members to enjoy dynamic income within a certain period of time through the proportion of investment amount Benefit and other modes to obtain high returns quickly. Training and lectures were conducted in many provinces and cities in China, and personnel were organized to visit the "REC golden tree" project in Siem Reap, Cambodia to attract members.
Through the "REC golden tree" website, the organization has registered online members as recommenders to register and activate accounts for new members. The recommender completes the regional placement of new members in the website platform, thus forming a top-down, multi-level and pyramid type pyramid marketing system.
As of March 19, 2019, the number of registered members of rec Golden Tree website platform has reached 170345. The development members involve many provinces, cities, districts and counties in China, such as Yingjing County of Sichuan Province, the surrounding areas of Chengdu City and Beijing City, with a total involved fund of more than 600 million yuan, and the highest level of the MLM organization is 158 layers.
During the period, in order to evade the judicial attack, the MLM organization made illegal profits by illegally purchasing bank cards sold by Yang, he, Wang, etc. as the company's collection and charge account.
Since February 2018, Mr. Lin has been the consultant of the company's business school arranged by the "REC golden tree" MLM organization. He has been responsible for preaching and lecturing to the MLM team members and relevant personnel in many places in China and Siem Reap, Cambodia. In January 2019, he also served as the team director of "Lotus Yijing" led by Wang, who is the team leader of "REC golden tree" in Sichuan, assisting Wang's team in dealing with the problems in the following aspects Related work in Siem Reap, Cambodia. Promote and strengthen pyramid marketing organizations.
Since February 2018, Mr. Lu and Mr. Chen have become team leaders of "REC golden tree" in Sichuan area. In the name of investing in "REC golden tree" to obtain high profits, Lu and Chen have actively developed offline members in Chengdu and other places, expanded MLM organizations, and provided members with payment on behalf for MLM organizations. Lu also used the "REC golden tree" platform to buy and sell virtual products Currency hedging profit.
After identification, the highest level of Lu's offline members reached 11870 at 73 levels, and the MLM fund involved in the case reached 29.2296 million yuan; the highest level of Chen's offline members reached 132 levels, 12246 people; and the MLM fund involved in the case reached 7.0277 million yuan.
The people's Procuratorate of Yingjing County held that the above three defendants, in the name of obtaining high returns from investment in "REC golden tree", lured participants to join MLM activities by paying investment related funds, and formed hierarchies according to a certain order. They directly or indirectly used the number of development personnel as the basis for remuneration or rebate to defraud property and provide help for MLM organizations to carry out pyramid marketing activities If the circumstances are serious, he should be investigated for criminal responsibility for the crime of organizing and leading pyramid marketing activities.